The Orchard, Wildnerness Land to Rent for your Event.
THE ORCHARD, NOT A PAINTBALL PLACE, NOT A CHILDS PLAYGROUND. BUT A LAND WHERE FOR MORE THAN 20 YEARS IS STEEPED IN TRADITIONAL MILITARY AND SIMULATED MILITARY ACTIVITIES.
Now for general rent or lease for your private or public event.
The natural bowl is ideal for outdoor music events. Located halfway between Boston and New York City, 23 miles from the Masschusetts Turnpike, 72 miles from Bridgeport, Connecticut and RT 195, off Rt 8.
300 acres, mostly wooded with trails; 25 acre field with 50 mile view. Located next to the Berkshire Hills, 30 miles from the Hartford-Springfield metropolitan area.
Contact us to find out how.
INKOMING@NETZERO.NET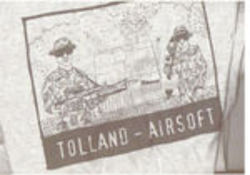 EARLY TEE SHIRT FROM 1999 DEPICTING TYPICAL PLAYERS THEN AND THE ICONIC BATTLE HEADQUARTERS, FORMERLY USED BY UNITED STATE SPECIAL FORCES AS A TRAINING CQ.